Water damage in your home can be devastating, even traumatizing. Your safe refuge is suddenly host to dirty, contaminated water, and insects and mold are sure to follow if you don't intervene soon. No matter the cause of water damage, from a burst pipe to a flash flood, or worse, the best way to return to your normal home life again is to hire the best water damage restoration company near you.
Water damage restoration is a professional service dedicated to cleaning up, drying out, and even restoring areas of your home where you may have found water damage or even standing water.
Here's what to expect from the process, and the amazing efforts that professionals take to make your home feel like a home again.
Inspection
If you feel your home may have water damage, call a professional immediately. They will stop by your home as soon as possible. Professional water damage restoration services will check a few key areas, including the attic, exposed plumbing, and basement. They will look out for signs of water damage, including musty odors, standing water, and mold. They will check very carefully, using tools like moisture meters, and other advanced equipment that spots all signs of damage.
Preparation
Before cleanup and damage restoration of water-affected areas can begin, the professionals will bring over a range of professional cleaning products and tools. These include dehumidifiers and air movers, infrared thermometers, professional-grade detergents and cleaners, moisture psychrometers, and so much more. Every job is different, so the tools of the trade vary based on the extent and type of water damage that needs to be cleaned.
Prevention
Professionals will then get to work, first targeting prevention. This means that they will work to stop any further damage. Depending on the type and extent of water damage, this may include pumping out standing water, dehumidifying the area, and more.
Drying
Now it's time to dry out your home. Professional equipment is used to dry moisture and prevent mold buildup. Drying out an afflicted area can also prevent mold from growing or worsening. Drying can save your walls, floors, and other vital areas of your home so that they can simply be repaired, rather than replaced. The sooner this process occurs, the better.
Drying can also prevent the spread of musty, moldy odors and cleans the air after water damage occurs.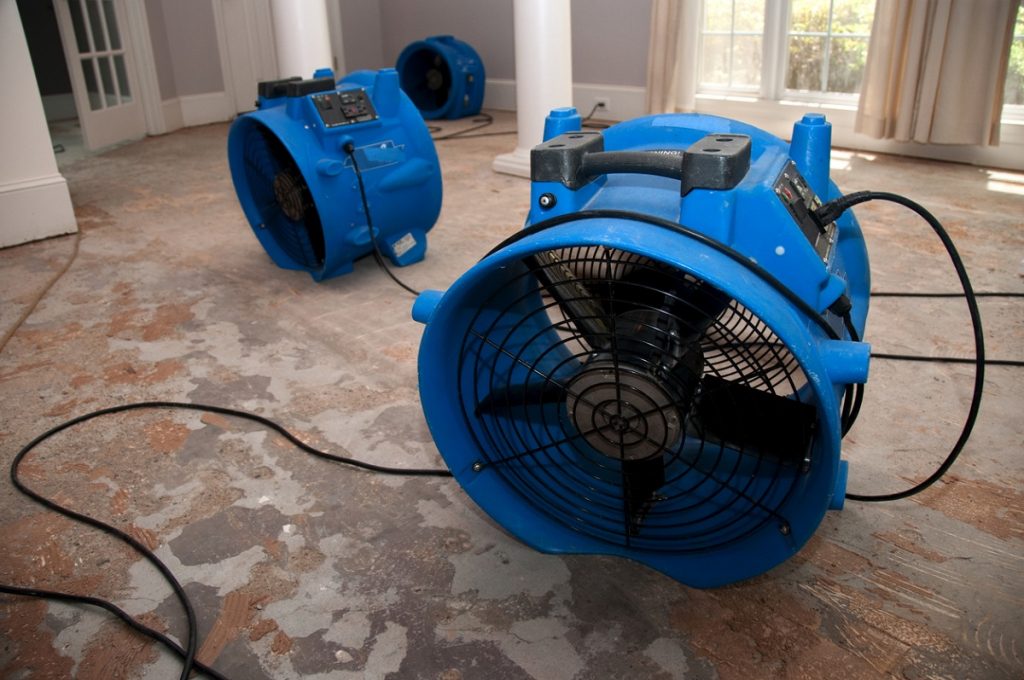 Mold Inspection
The cleanup team will then check for mold, which can damage building materials and other possessions, and can even make you sick if left untreated. Professionals will inspect all areas of your home, assess the damage, contain the mold, filter the air, remove all harmful mold growths, dry out the area, then repair damaged materials. They will check back periodically and will not declare the cleanup job finished until all mold is gone.
Cleanup
Now the professionals can get to cleaning. They will use special chemicals and tools to target certain areas, like carpet. Wet carpet that's salvageable will need to be cleaned and sanitized. They can also clean areas like tile, but this may mean removing the tile and cleaning the wall or floor behind it.
The specialists will inspect their cleanup work and answer any questions you may have. After this, it's time for repairs to restore the water-damaged areas that need more intensive work, and for which cleaning cannot salvage them.
So the next time you experience water damage in your home, call United Restoration for cleanup and professional water removal in Ocean City, MD.